Hello everyone,
today we have three things we`d like to share with you all about what we`re currently working on and what you can expect coming in the near future:
1. New levels + new products
- We are currently working on new levels up to level 100. We will also be adding a lot of new products with this level increase, you can preview some of them in the picture below.
We will add more products as you can see on image.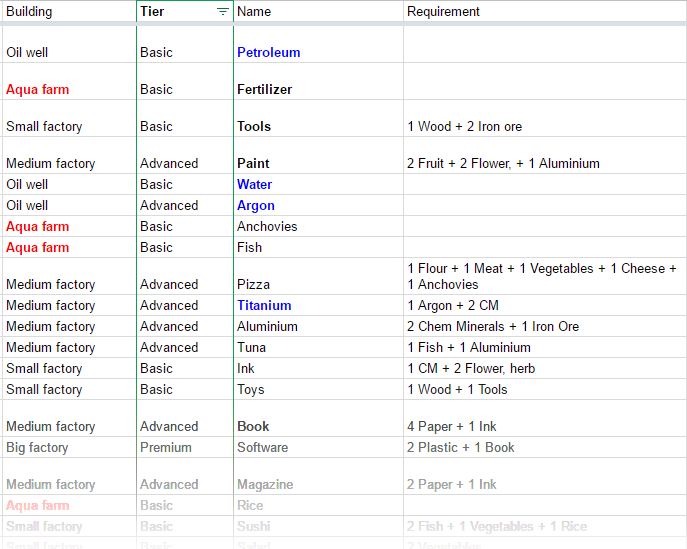 2. Government contracts
- This will be a new type of task that player will encounter, the game will automatically look to see what cities are in need of what products or buildings for their residents and it`s expansions and assign it to players.
For example, players may be requested to build new bus lines in New York - part 4 or connect two cities with buses.
The biggest difference between government contracts and the normal tasks in the game is that the reward for these contracts will be experience, so players will have the opportunity yo get to higher levels quicker.
3. New energy maximum for moving Buildings
- We`ve had plenty of suggestions and feedback towards our new building moving feature from last patch, we agreed that something had to be changed as the Energy cost for leveled up Buildings was a bit unrealistic. After reviewing the situation and the feedback we received we`ve decided to add a more reasonable maximum to the energy cost for moving buildings. The maximum is now 1100 energy, so buildings of higher level`s can now realistically be moved without having to spend a small fortune on Energy drinks.
We`re also giving a free gift!
Here are +3 energy drinks for free!
To get the gift, please click here (**Offer Valid until 2017/05/12**):
Web players:
http://www.investor-city.com/gift/32/
Facebook players:
https://apps.facebook.com/investorcity/?gift=32
Have a nice day,
Mark