Hello everyone,
we`ve updated the game today and we`ve added some new features, the main ones being:
1. New player levels (upto 100)
are now available, there was a small adjustment to the experience requirements which mostly affected players from levels 46 and up.
Levels have been recalculated based on the new values, higher experienced players are likely to reach levels of 50-51.
Max energy cap was adjusted accordingly with the new levels to allow higher energy storage.
2. A new type of task called "Government Contracts"
are now available. These will reward experience to help players advance to the higher levels and will help them deal with the higher XP requirements on the upper levels. These tasks were designed to help grow a players company.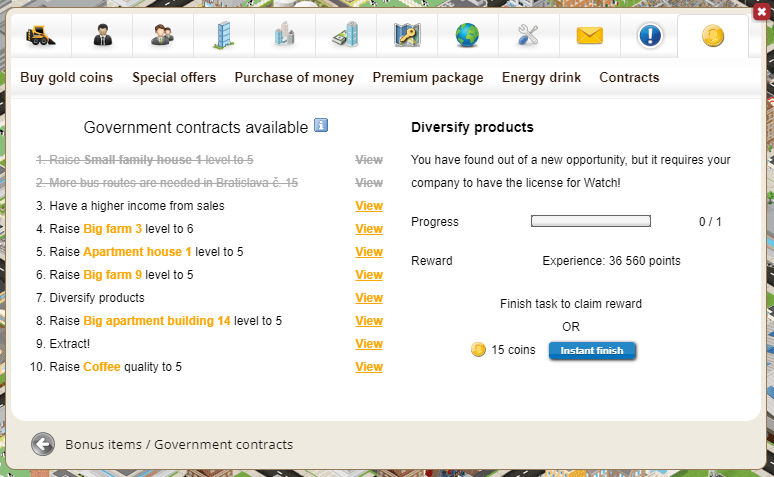 3. We`ve added a few new daily tasks
as well for higher levels and current levels. Some of these tasks will be using some of the new products to help ensure a higher diversity.
4. 42 new products are now available!
Each category (Basic, Advanced, Premium) has some new product types. Most new products are evenly distributed and unlocked over the new higher levels.
Oil wells are able to produce 3 new product types now on top of Oil. This is to help balance them with Mines. Both mines and wells are now able to produce 4 different types of products each.
A new type of farm
"Aqua farm"
can be built. This new farm will be able to produce Water based products like Caviar, Rice, Fish, etc.
*NOTE:* All Big farms producing Caviar were automatically changed to this new type of farm
, *Big farms will no longer be able to produce Caviar*.
And for a limited time players will have the option (a button) to change a Big farm into an Aqua farm or vice-versa (this feature will most likely be available `till 1st of October 2017)
5. The warehouse has been redesigned
slightly to allow all products and category`s to fit. We`ve also added a small menu to help in accessing some of the related windows like selling, buying and raising Quality.
With the new products, we also added the possibility to further extend your warehouse. Additional upgrade options will be available as you get to higher levels.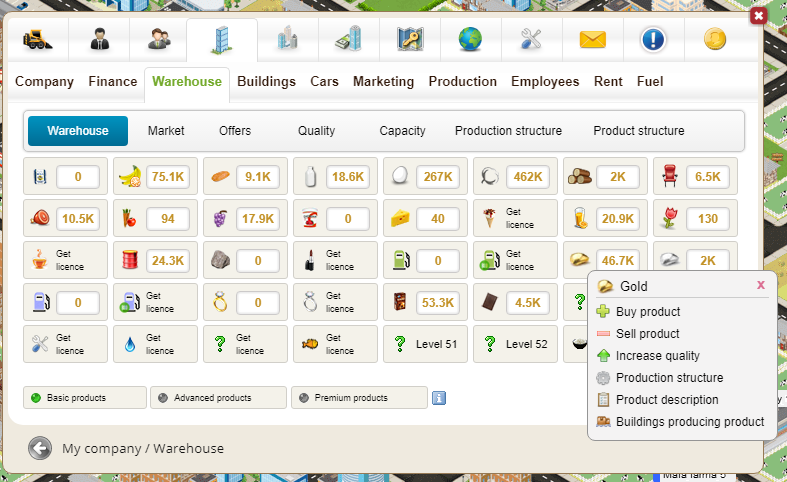 Have a nice day,
Mark